Lexie app features
Pay less with Lexie Rewards*.
Browse the FAQS to learn more about your hearing health and hearing aids.
Select your hearing environment.
Change the volume on your hearing aids.
Monitor battery levels.
Talk to a Lexie Expert, 6 days a week.
*Lexie Rewards is administered through the Lexie app.
Take control of your listening experience
Control your listening experience by using the Lexie app on your mobile device.
Connect your hearing aids to
your phone with Bluetooth
Video call a Lexie Expert™
Monitor battery level
Wear better and pay less with
Lexie Rewards
Easily adjust volume and
settings
Adjust hearing aids remotely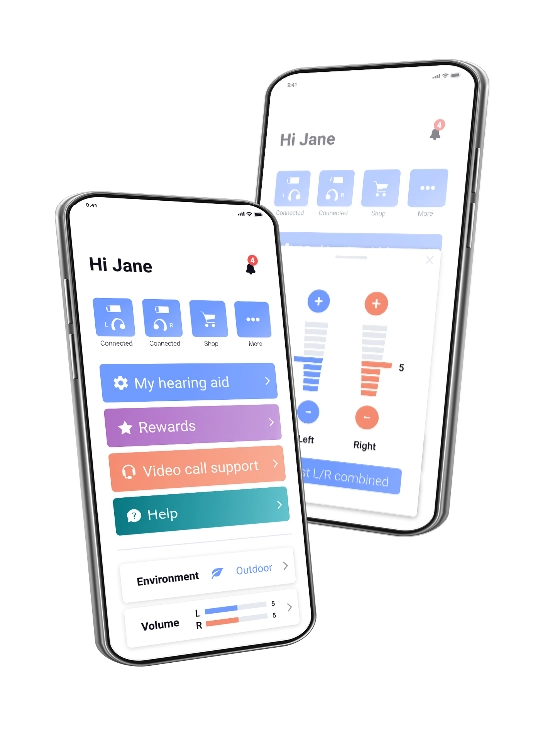 Not tech savvy?
Not tech savvy?
That's okay!
The Lexie app was designed with you in mind, you don't need any special tech skills to make it work.
We're here to support you each step of the way. All you need is a smartphone and you'll be ready to start in a few, quick steps.
Lexie Experts are ready to help you.
Call: (800) 499-1336
Email: support@lexiehearing.com
Monday - Saturday: 9am - 8pm EST
A promise of Lexie Care is included with every hearing aid purchase.
Get the personal support, information, and resources you need to navigate life with hearing aids.
Lexie Experts™ are available 6 days a week
Talk directly to a Lexie Expert through voice or video calls, using the Lexie app, or call us on (800) 499-1336
Self-guided troubleshooting
Use the videos and illustrated step-by-step tutorials available in the Lexie app if you prefer to troubleshoot yourself.
Advanced support for the first 45 days
We help you wear your hearing aids for long enough to make the adjustment. Learn about how to use them and care for them.
Access to the Lexie Blog
A platform that is full of informative articles about hearing loss and hearing health.
Administered through the Lexie app. Use the wearing goals to wear better and be rewarded.
discount on your monthly subscription or redeem your points when you make purchases through the Lexie app.
Download the free Lexie app
Take control of your listening experience.